Contributors Gallery
Pike and SW
Details

Created: Sunday, 29 November 2009 20:50
Last Updated: Sunday, 29 November 2009 20:50
Written by Ulf Hagström
Hits: 4672
No good tying or buying flies if you can't get out there and fish with them! Here you will find photos from our different forum members and other friends and contributorus. This section contains photos on the Pike and saltwater theme. Do you have some fly fishign photos you want to share? Just e-mail them to us and they will be up here in no time: This email address is being protected from spambots. You need JavaScript enabled to view it.
---
Peter Jensen is a friend of ours down in Denmark, he is an avid fly fisherman for sea trout and of course also for Pike! Here's some really, really nice photos from him! Thanks Peter!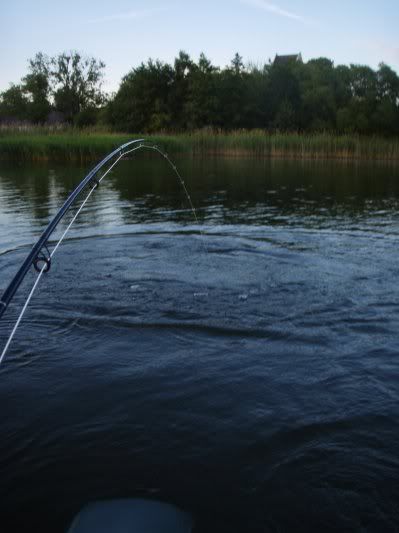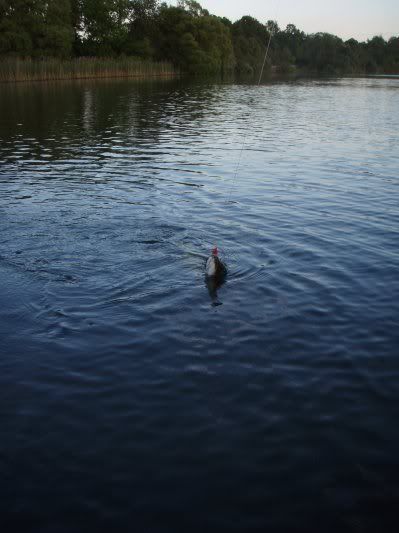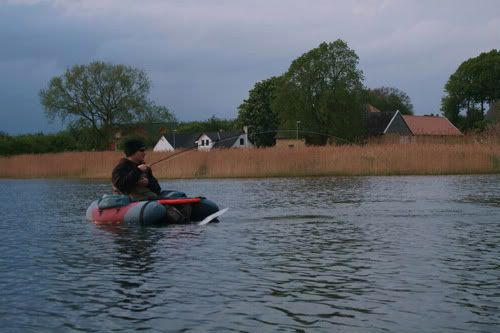 ---
Now this is excisting and makes me so glad to see!
Garry Joley who is a friend to a lot of us picked up fly fishing and fly tyign for pike just a while back.
The other day this came from Garry. Now how's that for a start to your pike fly fishing interest! 
"First time out pike fishing and I caught this monster yesterday, massive thanks to, Dave S, Dave L, Ulf and Ken I could not have done it without you all, its all down hill from now on!!! How am I ever going to better this???? What have you boys got me into???"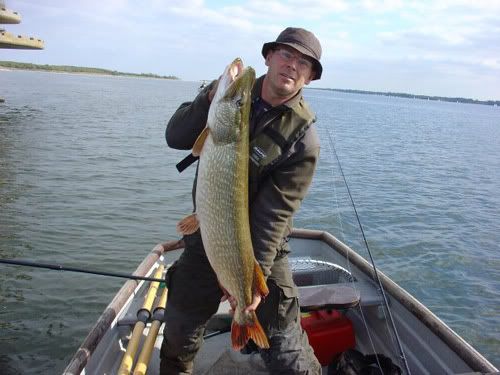 ---
Here is some great photos from our friend in Ireland, Glenn Drennan featuring himself aswell as one of Irelands most prolific specimen hunter and irish angler magazine columnist Terry Jackson.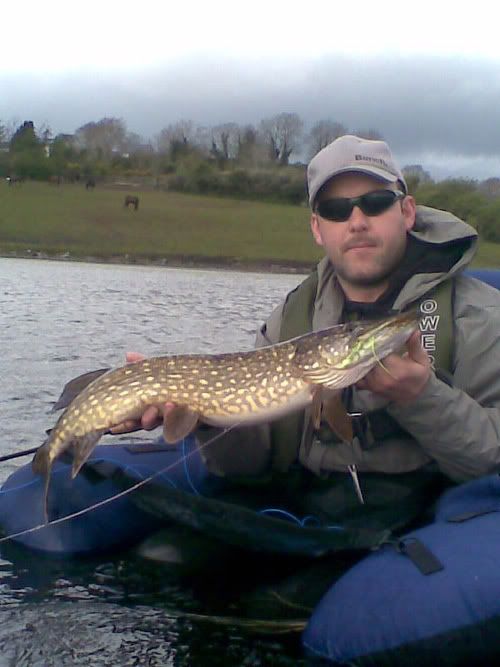 ---
More fantastic photos on some great pike from our friend Jeppe down in Denmark, thanks alot buddy! But... is that a spinning rod I see there? ;)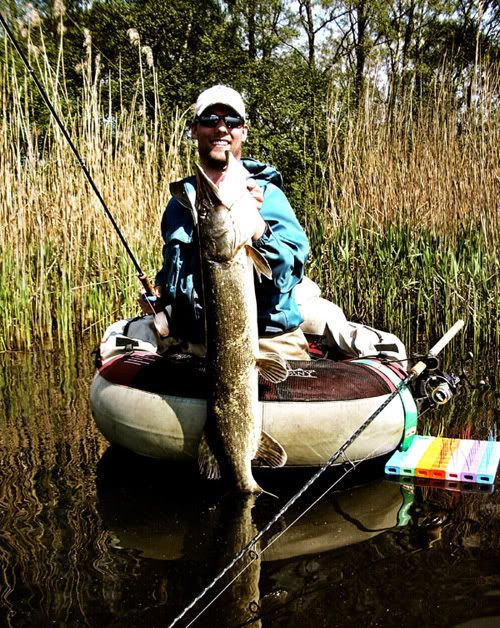 ---
A great photo once again from Scottland, and from another Clydesdale this time from Scott Clydesdale who send a photo "of a female friend saying hello from my favourite scottish loch". Now I gotta say you have some nice female friends Scott ;)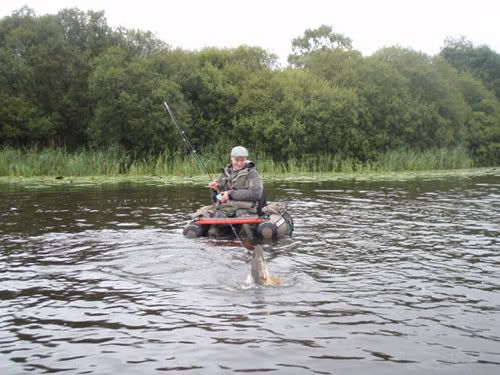 ---
A great catch on a Sub bug from our friend across the pond Ken Capsey!  
---
More from our friend Jeppe Lyngsø down in Denmark, and these are some great photos! Just look at the colors of these and the size of these pikes!!! Man I gotta get my ass down to Denmark soon! 
More from Scotland again! This time from the man featured in the photo below; Paul Clydesdale. Some great pike from float tube shots! Reminds me to fix the hole in my tube so I can get out again soon! Thanks alot for sharing photos with us Paul!  '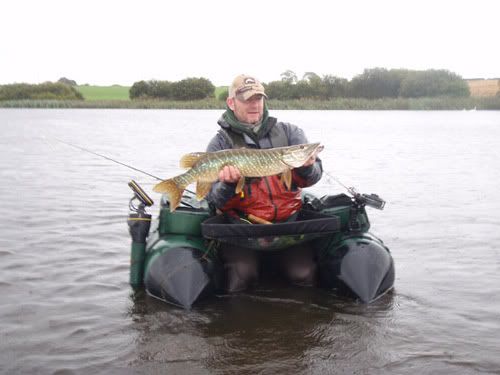 ---
Another great photo from our friend Dougie in Scotland. This one feature our fellow forum member Paul Clydesdale Pike flyfishing on a Scottish Loch at sunrise, thanks alot for sharing Douige!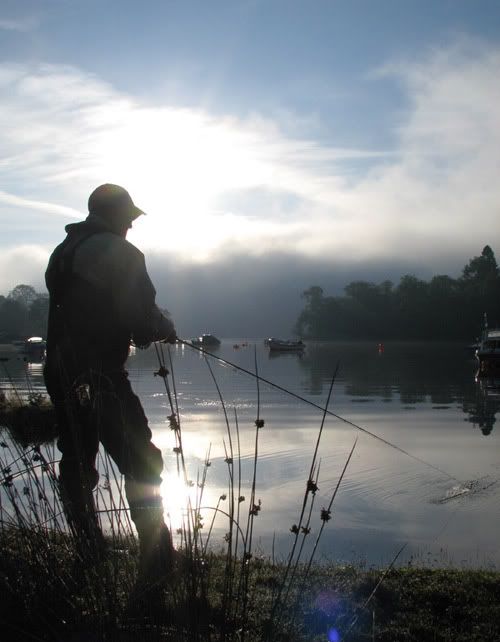 ---
Jeppe Lyngsø from Denmark sent us this amazing photo and this little story: 
"I tell ya its worth waiting for that nice 20+ pounder on the fly from the tube - I was very fortunate and hit one last year in the winter. Mid February and nothing happened all morning but all of a sudden when i was "trolling" with the fly i got a monster strike and hooked it. After a nice long fight i could let my mate grab the hugely fat fish and we could paddle the long way to a bay with low water. Weighed and measured and some photos later it was back in the cold winter water with its extraordinary huge belly of spawn. It weighed in at 9,7 kg ~ 21,4 lbs and was only 102,5 cm long - My biggest pike on the fly by far and a real beauty." 
We can't argue with that, what a catch, congratulations buddy!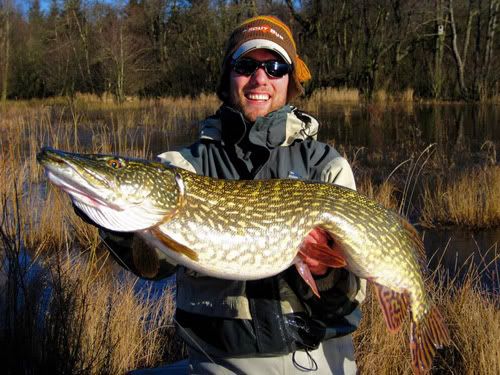 ---
Now how about this absolute beauty on a smashing 23 lbs!!! Caught on a silver sparkler by our good friend from Scotland Dougie Loughridge!  
---
Edwin Kerssies from Holland is one of our featured tyers, here's some examples of what his gorgeous flies can do for him! Great stuff Edwin!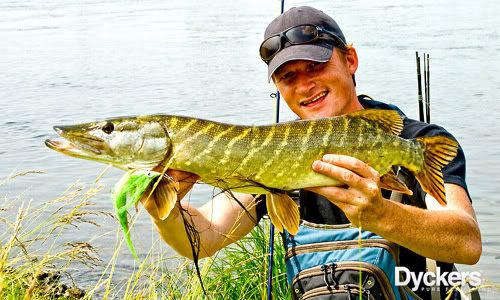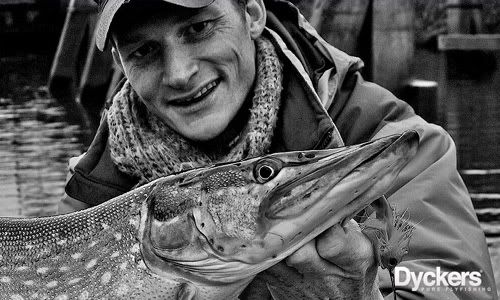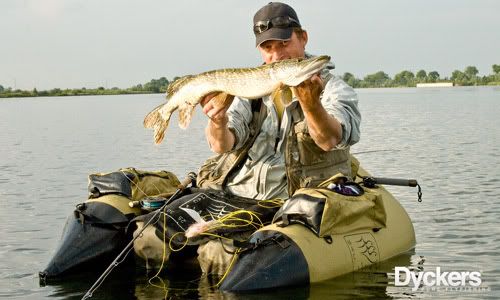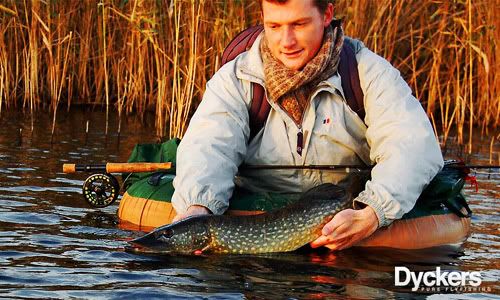 ---
 Ken Capsey from Burlington VT USA with a nice catch! Ken is one of my best international pike friends out there. Irish and proud!
Ken runs his own pike fly blog that is well worth the visit: http://pikeadventures.blogspot.com/