Fly Tying Articles
The complete guide to dubbing!
Details

Created: Monday, 11 January 2010 19:31
Last Updated: Monday, 11 January 2010 19:31
Written by Dennis Shaw
Hits: 8347
Page 6 of 13
Twist (Direct) Dubbing
Ok, you now (hopefully) have a good idea of what you can use and how to prepare it. So it's time to learn how to apply it.
The first technique I'm going to show you is the simple twist dub, sometimes called Direct dubbing. This is probably the most common technique and the one you will undoubtedly use the most. I have shown the technique here using seal's fur, the technique is the same no matter what medium you use.
I have highlighted a few words and phrases, pay particular attention to them.

Let's just remind you of how you prepare it first.
Remember that this preparation is only necessary for dubbing with a long staple length. On dubbing such as hare's ear you can omit this step.

Take a pinch of dubbing.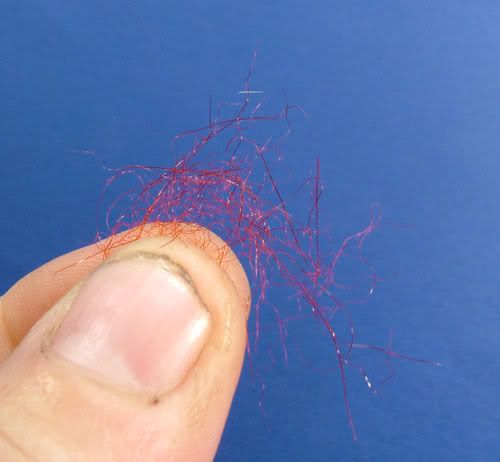 Then repeatedly push it together and pull/tear it apart to work the fibres into more manageable lengths.




You're now ready to apply to the thread. Two things to remember here are "less is better" and "little and often!"
"Less is better?" Most beginners and many experienced tyers use too much dubbing. Try not to fall into that trap by using much less than you think you'll need. You will be surprised at how far a tiny pinch of dubbing will go.
"Little and often?" It is easier to add more dubbing than it is to remove excess. With experience you can usually judge how much you need, but to begin with it is better to use less.

Right, let's get some fur round that thread!
To get the dubbing round the thread core we have to twist it round the thread. You can twist it clockwise or anticlockwise, the choice is yours. I twist clockwise which is shown in the instructions. If you prefer to twist anticlockwise, the instructions are exactly the same, the only difference being the direction of the twist.
Only ever twist the dubbing in one direction. Do not twist it back and forwards!
Take a small pinch of your prepared dubbing. Offer it up to the thread between your index finger and thumb. Then push your thumb forward (to the left as shown) and at the same time draw your finger back. (To the right as shown) This will cause the dubbing to twist round the thread core between your finger and thumb.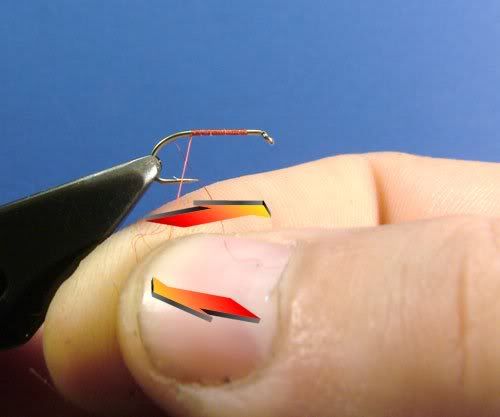 At the same time as you are twisting the dubbing you need to apply pressure between your finger and thumb, meaning you squeeze and twist at the same time.




Repeat these motions several times until you are happy with the resulting dubbed thread. You can let go at any time to check. Also at any time you can twist the dubbing to tighten it. By varying the amount of pressure you can dramatically alter the finished effect, which is something you will learn with experience. To begin with you can apply too little pressure, but you can't apply too much! Too little pressure is a very common fault with beginners.

Done correctly you will be left with something like this.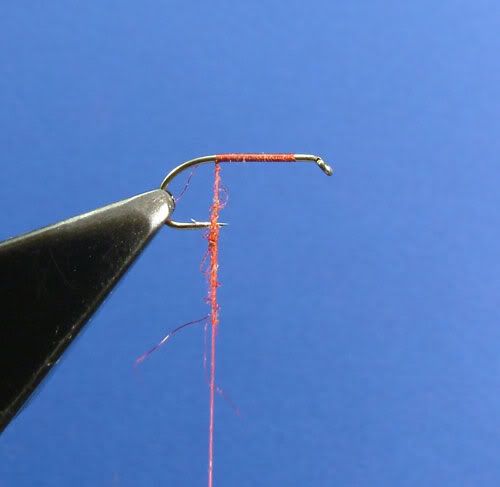 As you can see I have only used a little here. Not enough to cover the whole body, but it is easy to add a little more if necessary.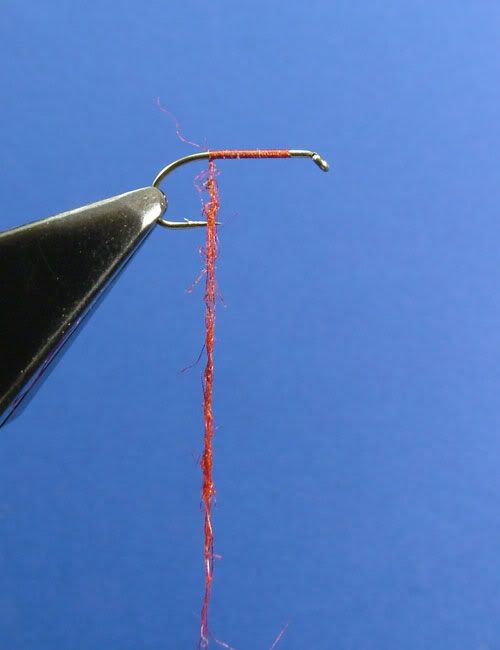 Now start wrapping to form the body. You will notice that I have slid the dubbing up the thread so that the body is being formed from the very first turn.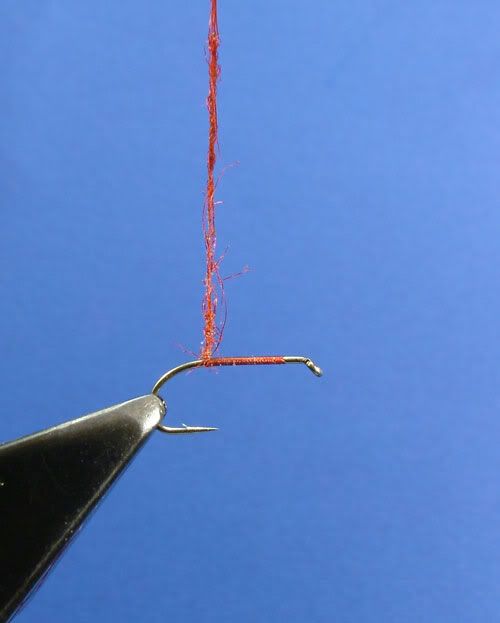 It's now simply a case of wrapping towards the hook eye to form the completed body. Notice that there is a gap between the end of the body and the hook eye. If this was a fly I was tying I could now add another small pinch of dubbing to complete the body. Much easier than using too much and having to pinch it off.




This is a simple fairly level body such as I would use on a Shipman's Buzzer or similar fly.
As I mentioned earlier you can affect the final appearance by varying the amount of pressure you apply to the dubbing. Here I have applied much more pressure at the start of the dubbing than at the end. Of course, as you can see I've also added a little more dubbing at the end as well. The result of using one or both techniques is a tapered body. By varying the pressure and/or the amount of dubbing and its placement you can easily build a ready made taper into the body. Which technique or techniques you use or prefer is something you will learn with experience.

The tapered dubbing noodle.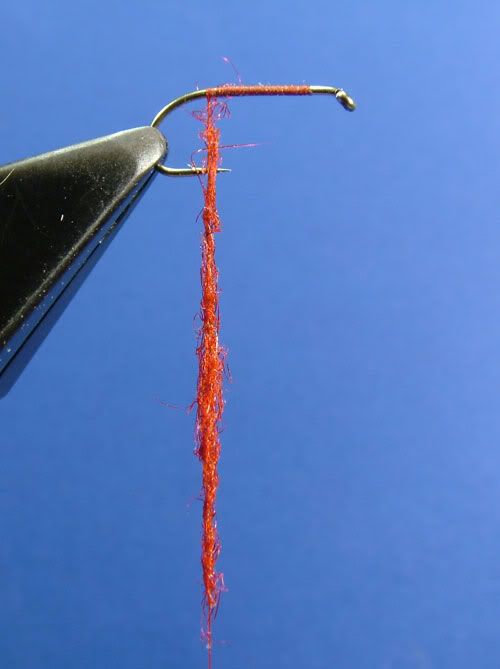 The effect.




That is twist dubbing, a fairly simple process. By following the few simple guidelines above and with a little practice you will soon master this technique.
Pay particular attention to the pressure. As mentioned earlier, one of the most common mistakes beginners make is applying too little pressure when squeezing and twisting the dubbing.

The following are a few ideas for you to contemplate and, hopefully, find inspiration from.

Here I have wrapped a body of copper wire, then twist dubbed the wire with a little fiery brown seal's fur and wrapped it back up as a rib.




Here I have wrapped a yellow silk body and tied in a gold wire rib, then twist dubbed the wire with super fine dry fly dub before wrapping to form the rib.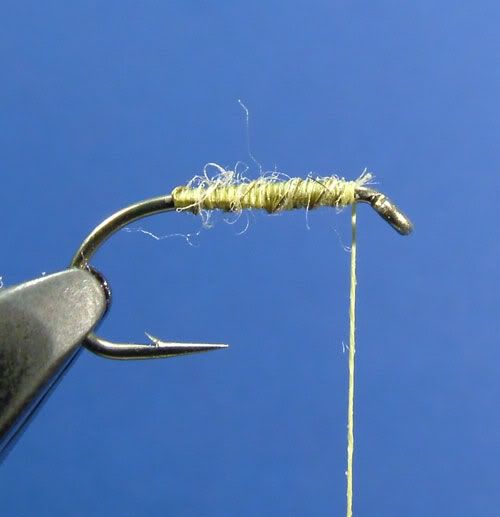 Finally this one is a body of black Orvis Spectrablend ribbed with oval gold tinsel twist dubbed with a little Peacock Spectrablend.