Fly Tying Articles
The complete guide to dubbing!
Details

Created: Monday, 11 January 2010 19:31
Last Updated: Monday, 11 January 2010 19:31
Written by Dennis Shaw
Hits: 8345
Page 5 of 13
WAX

Where dubbing is concerned this is a contentious issue!

There are many tyers who swear by wax and there are many who think wax is unnecessary. I am firmly in the unnecessary camp.
If you wish to use wax or think that wax will make dubbing easier then use it. This is just my opinion, it is not set in stone. If you are unsure, listen to what I and others have to say then experiment your self and come to your own conclusions.
There are two reasons I don't wax. The first is it is simply unnecessary. In the picture below I have dubbed, from left to right, Squirrel, Seals Fur, Orvis Spectrablend, Flash Bright and Glister. All without wax and onto copper wire. Proof, I think, that wax is unnecessary.




The reason that wax is unnecessary is that when you apply dubbing to the thread you are only using the thread as a convenient core for the dubbing noodle. The dubbing is simply a mish-mash of tangled fibres held together by its self and around a central core. It does not stick to the thread. You can see what I mean in this close up from the picture above.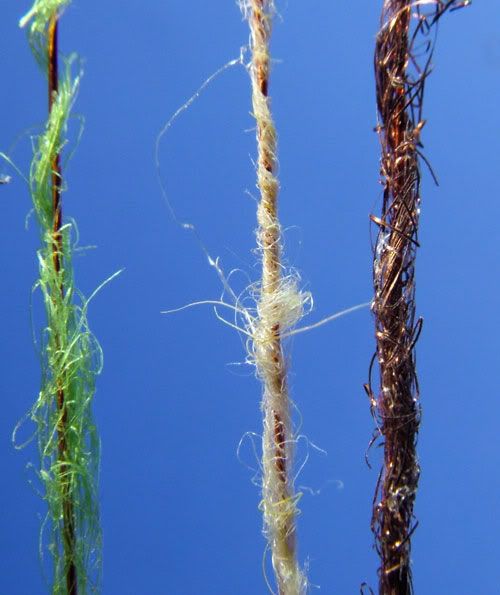 If you use wax you may find it easier to get the material onto the thread, but you are only using a work around for bad technique. Surely it is better to master good technique!

By using wax you also lose the second reason I don't use wax… control.
When I apply dubbing to the thread I can control, by sliding, where I want it.

Here I have dubbed some Hare's Ear to the thread, as you can see there is a gap between the dubbing and the hook. If I had waxed the thread first I would have had to make two or three turns of thread before I started forming the dubbed body.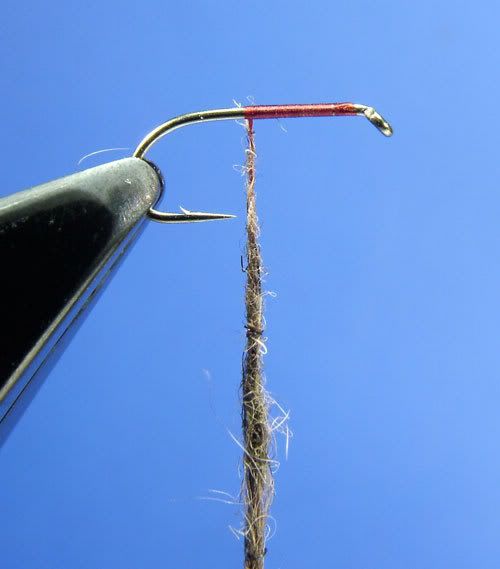 Because I have not used wax I can now position the dubbing where I want it, by simply sliding it up the thread core.





This means that from the very first turn of thread I will be forming the dubbed body.




As I said at the beginning if you want to use wax or think that wax is necessary then use it. I am only offering my opinion on the subject along with the reasons why I have come to these conclusions.