Fly Tying Articles
The complete guide to dubbing!
Details

Created: Monday, 11 January 2010 19:31
Last Updated: Monday, 11 January 2010 19:31
Written by Dennis Shaw
Hits: 8347
Page 3 of 13
Preparing Dubbing.
There are various ways of preparing your dubbing. Below I have outlined some of the most common methods. I am only showing you how to prepare them here and a few examples of flies tied with the prepared dubbing. Their application is shown in separate step by steps.

Natural Furs.
The main technique for harvesting natural fur is by using a dubbing rake. There are many dubbing rakes available ready made. You can also make one yourself using a hacksaw blade attached to a piece of Dowling, or similar. I personally use commercially available ones. My weapon of choice being the "Ceramiscrape" made by Lawrence Waldron.

Pictured here are a Stonefly dubbing rake, a Ken Newton dubbing rake and the "Ceramiscrape." The first two do the job very well, the "Ceramiscrape" is, in my opinion, exceptional.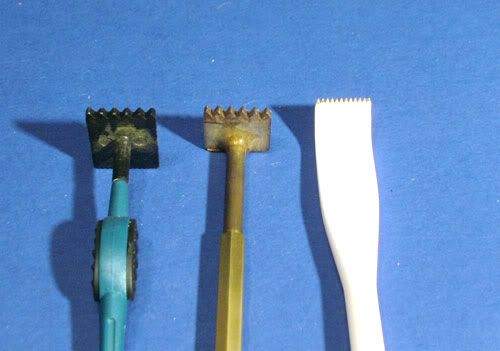 Using a dubbing rake is a simple process.

Simply draw the rake (under pressure) across the fur, following the direction that the fur lays.
I have shown you here on a Fox Squirrel skin, but the process is the same on all skins.




After two or three draws you will have a decent amount of ready mixed dubbing.




Here in close up you can see the blend of underfur and spikey guard hairs achieved.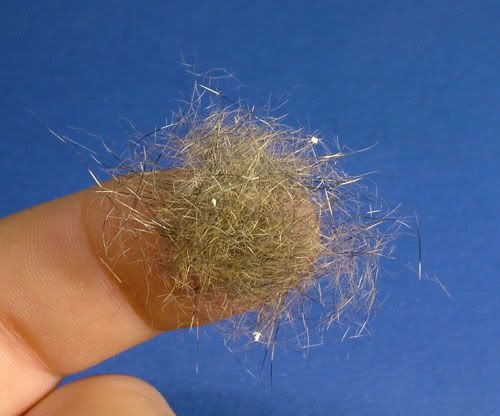 -

This is mole using the same technique.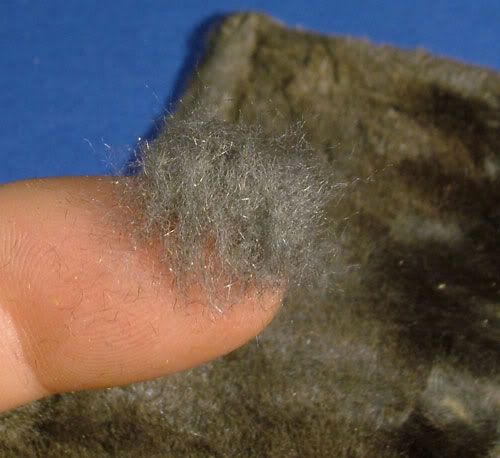 If you don't have a dubbing rake, another technique you can use on mole is to scrape a razor blade over the fur. Razor blades are sharp, exorcise extreme caution when using!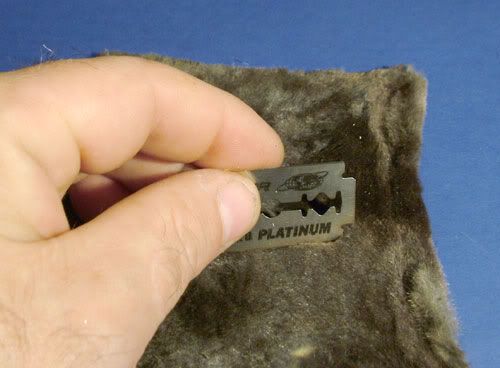 The result




Seal's Fur dubbing almost always come ready to use, but in some cases the staple length of the fur is too long.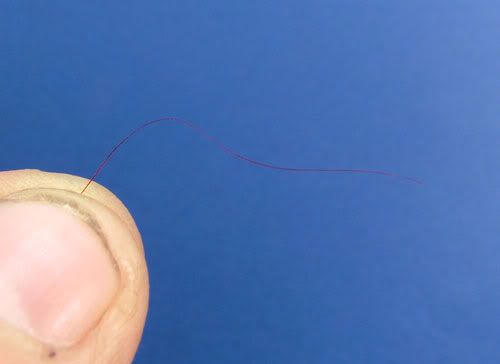 The "fix" is simply a case of tearing it a few times between your fingers.




You will then be left with a more manageable medium.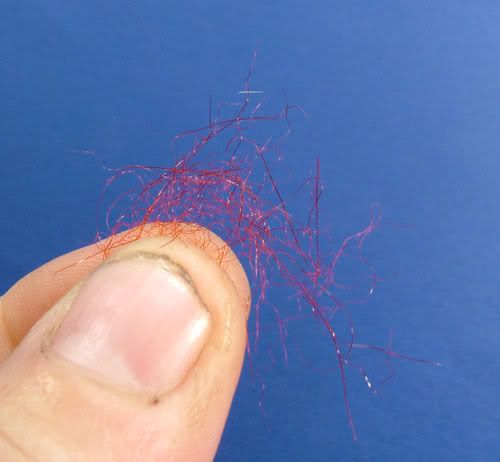 Other dubbing mediums

Wool

As well as normal dubbing mediums such as animal furs and purpose made synthetic dubbing you can also use a range of mediums found in the average flytying kit and/or sewing/knitting box.
Most of these mediums will need some simple preparation before you can use them.
One of the most common items available is wool. It comes in a variety of colours, is cheap and easy to use.

To prepare the wool you will need the following. A fine toothed comb and a pair of scissors.
The comb shown is a nit comb I purchased from Boots for this job.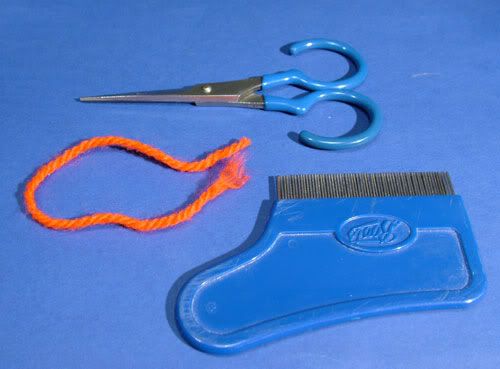 Now simply comb the wool to separate the strands. Do a small section at a time, if you try to do too much it will get stuck.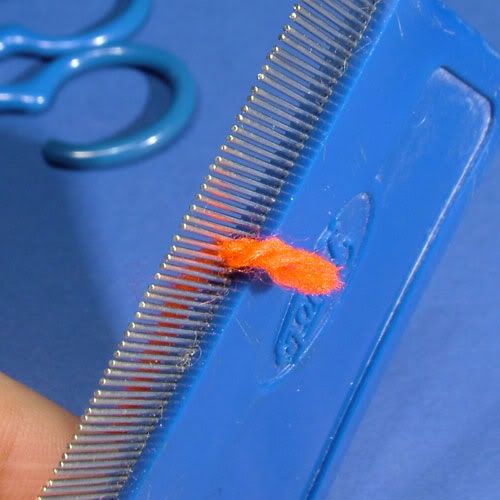 Once you've combed it a few times it will look like this.




Remove it from the comb.




Then cut it in to short to medium lengths.




Finally, work it a little in your fingers and it's ready to use.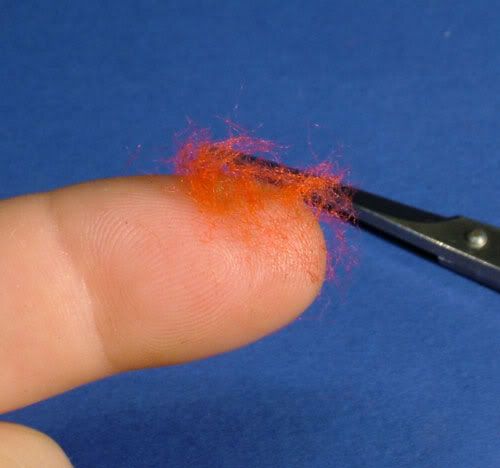 Whilst combing some of the fibres will stick in the comb.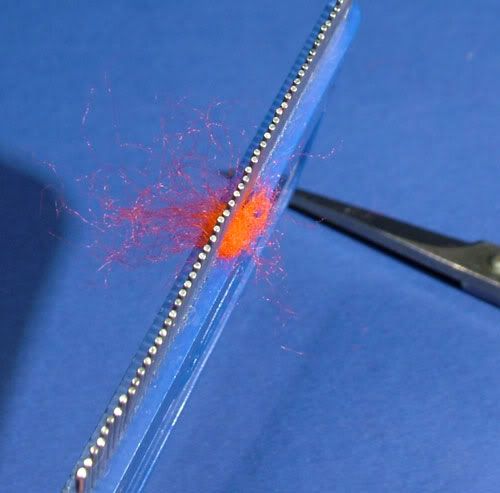 Pull these out and work in your fingers as well.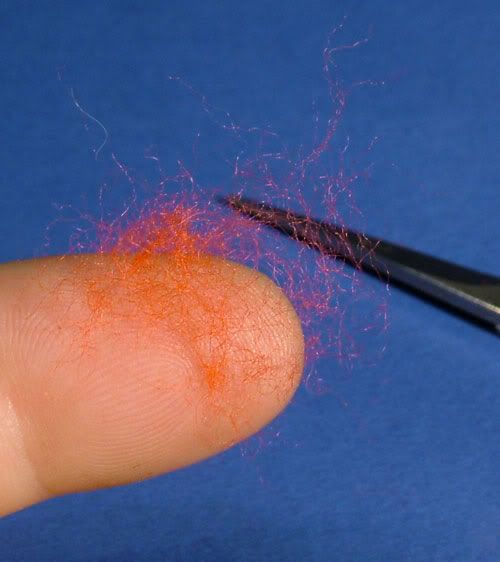 Shown here is a fly dubbed with a body of black wool prepared using the technique shown.




You can also use the same technique on other mediums as well.

Shown here is a trainer shoe lace prepared in the same way.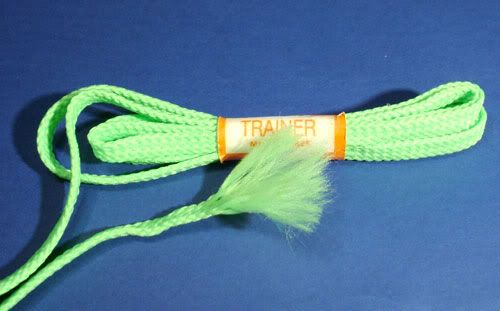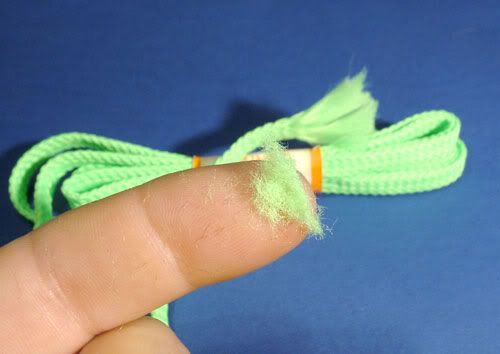 Here is one tied with the prepared shoe lace used as the dubbing.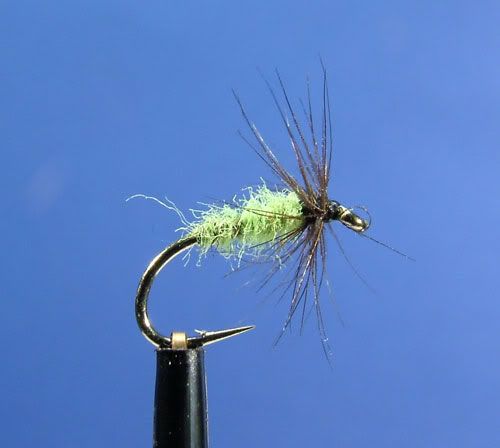 You can also use mediums such as floss and mending yarn. These don't need combed. Simply cut into short to medium, varying lengths, then after working a little in your fingers they are ready to use.

Floss.




A fly tied with a dubbed floss body.




Mending Yarn.




A fly tied with a dubbed mending yarn body.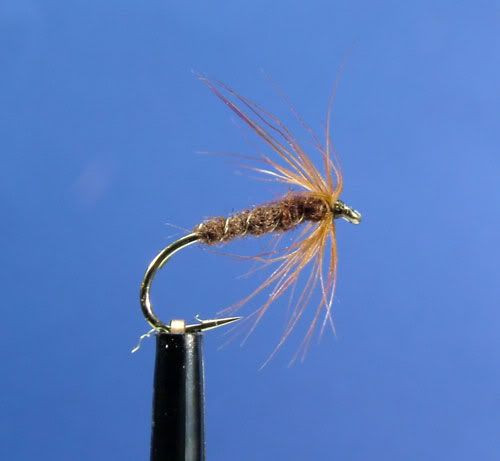 Z-Lon.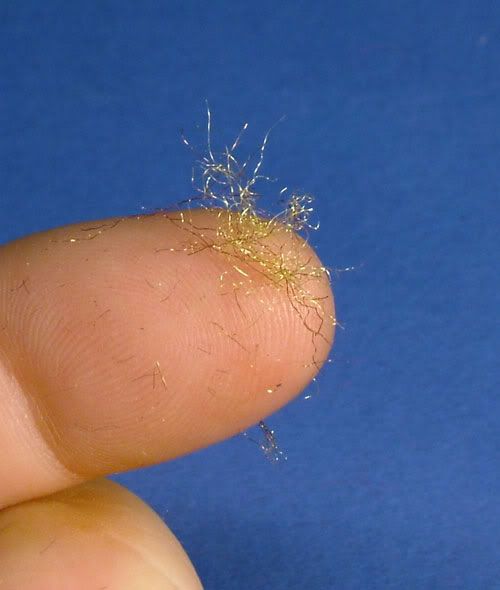 A fly tied with a body of touch dubbed Z-Lon.





As you can see the materials you can use are almost limitless. By using the simple techniques shown here you can turn almost any medium into a usable dubbing.