Fly Tying Articles
The complete guide to dubbing!
Details

Created: Monday, 11 January 2010 19:31
Last Updated: Monday, 11 January 2010 19:31
Written by Dennis Shaw
Hits: 8344
Page 2 of 13
What can I use for dubbing?

There are literally thousands of commercially available dubbing materials and 100x's that in materials you can utilize for a dubbing medium.

Below are a few selections, but these are just the tip of the iceberg.

Here we have a selection of commercially available synthetic or part sythetic dubbings.
Polypropylene, SLF, Spectrablend, Antron, Glister, Lite-Brite and Mohair with a bit of flash added.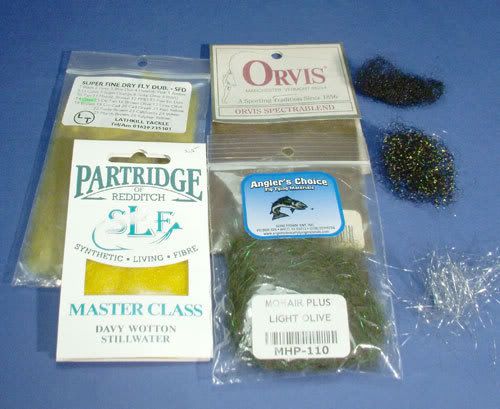 Here we have a selection of natural materials on the skin.
Snowshoe Rabbit, Mole, Fox Squirrel, Mink, Hare's Mask. You can use virtually any animal fur as a dubbing medium.




Here is a selection of fur taken from the skin.
The top row is three different blends of fur taken from a Hare's mask. The darkest one on the right is the dark hair taken from near the tip of the ear.
The bottom row is Mole and Rabbit.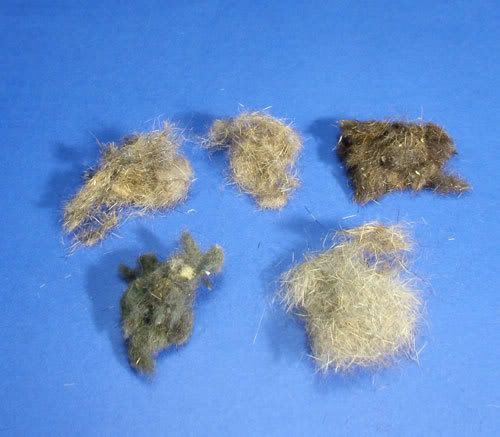 This is a small selection of dyed and blended dubbings of my own. They are mainly a blend of Seals Fur, Rabbit, Antron and Hare.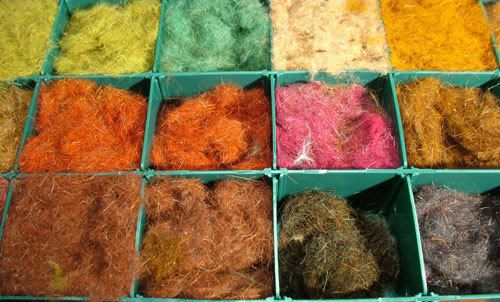 Not to forget Seals Fur. An important point to remember when buying seal's fur is to buy baby Seal, some places sell adult seal. Adult seal is, quite simply, a pig to work with. Avoid it like the plague!




Finally we have a selection of materials many wouldn't normally associate with dubbing.
Mending Yarn, Wool, Egg Yarn, Sparkle Yarn and Zelon. All of these, and things like carpet yarn and a million other unusual items can be used as a dubbing medium. I will cover how to use these later in the post.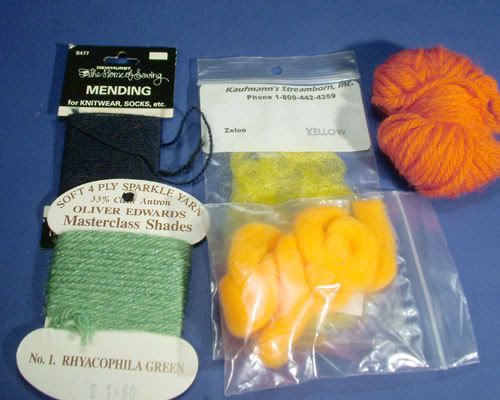 What is pictured is only a tiny selection of what's available. A look through the many step by steps will give you a fair idea of what dubbings are the preferred choice for particular styles/patterns of flies.
Properties of some dubbing materials.

There are so many different types of dubbing available that it would be impossible for me to show and explain them all.
So below is a resume of some of my favourite dubbings and what I use them for. (Mainly)
It is not meant to be a comprehensive list or appraisal of the various dubbings available. Any brands or types or their uses mentioned are purely for reference, they are not necessarily my recommendations.
What I want you to take from the post is a basic understanding of some of the dubbings that I use and why. With experience you will develop your own favourites and when to use them.

When choosing your dubbing you have many choices, do you want a natural or synthetic dubbing, do you want the texture to be coarse, medium or fine, should the dubbing absorb water or not? At this point you're probably thinking; Crikey! How do I know? Well it's not as difficult to decide as you might think; it's really just a process of elimination…

Natural or synthetic? This is probably the most difficult choice you will have to make, and one that only experience can really teach you. Personally I tend to err on the side of natural for wet flies and synthetic for dry flies. The main reasons for my choices are that natural materials tend to absorb water and I think they have a more life-like appearance on wet flies, though some of the synthetics dubbings available to us now come close to the appearance of natural dubbings, and are also an excellent choice. Most synthetics dubbings do not absorb water and many are lighter than water, so make a good choice for dry flies. There are many exceptions though, natural materials which come from water-borne animals such as beavers, seals and otters also make excellent dry fly dubbing. To add to the confusion, modern floatants such as Watershed, Dilly Wax and Gink are so good as to virtually eliminate any problems of water absorption! So this is one choice that only experience will teach you. It may even be down to simply choosing natural materials because you don't like synthetics or vice-versa because you don't want to use fur from a dead animal!
Fine, medium or coarse texture? Many things can affect your choice here. Do you want a tight or smooth body, if yes then generally this will easier to achieve with a fine textured dubbing. If no, you want a fuzzy body with little or no defined shape, then maybe a medium or coarse textured dubbing would be a better choice. Hook size can also affect your choice, if you're tying very small flies for example, a fine textured dubbing would, generally, be a better choice.
Should it absorb water or not? If it's a wet fly then a dubbing which absorbs water can be an advantage, once it is wet it may help the fly sink. If it doesn't absorb water you may need to weight the fly to help it sink. If it's a dry fly, a dubbing which absorbs water may be a disadvantage, so one that doesn't absorb water may be a better choice.
So as you can see by a process of elimination you can make your choices a little easier. Though as stated above, with experience you will soon develop your own personal favourites to suit particular flies.

Let's look at some commonly available examples, but remember these are just a few of my chosen favourites and are not meant as recommendations.

HARE'S MASK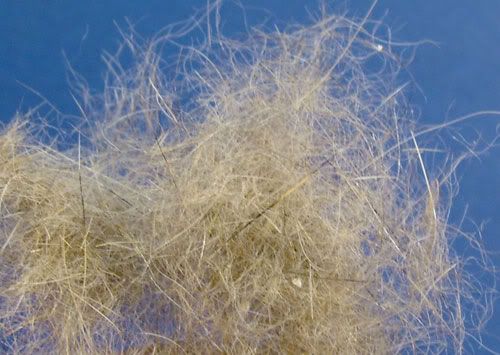 The picture above is a blend of hare's mask fur taken from the cheeks of the mask. By choosing fur from different places on the hare's mask you can get a range of colours from a pale fawn (as above), through ginger to dark grey. (Almost black)
The texture is fine to medium, depending on the part of the mask it came from.
I use hare's mask for a variety of nymphs, wet and dry flies. It touch dubs well and you can also form a noodle with it for dubbing loops. It is also very easy to twist dub. You can alter the spikiness of hare by controlling the guard hare to underfur ratio. More guard hares = spikier dubbing.
This is a picture of the mask, as you can see there is a huge range of colours and textures.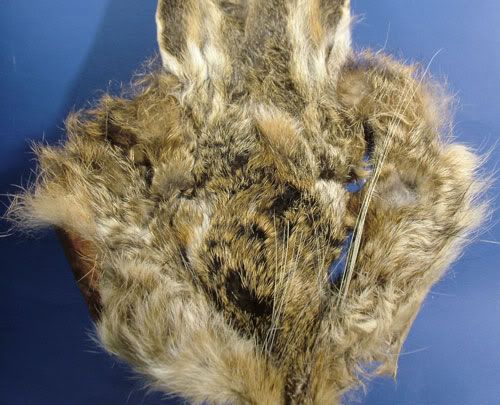 SQUIRREL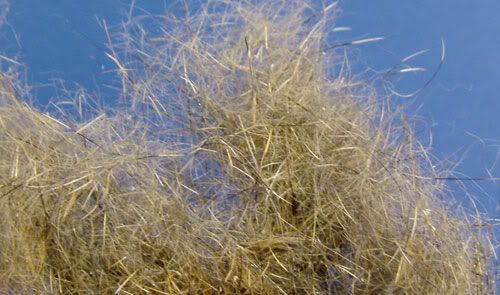 The picture above is squirrel fur taken from the back of a red fox squirrel pelt. Squirrel is similar to hare's fur, and as such can be used in the same situations as hare.

RABBIT




Rabbit is another with similar properties to hare, and again, can be used in the same situations. The underfur is a little softer than hare's and squirrel underfur. I tend to use rabbit more as a binding agent when blending coarser dubbing.

MOLE




Mole is fine textured and short fibred with no guard hairs. This is a great fur to use for touch dubbing.

BEAVER




This is dyed beaver underfur; a fine textured dubbing, great for forming slim bodies on dry flies.

MUSKRAT




This is muskrat underfur. Similar in texture to beaver, and like beaver it can be used to make nice slim bodies on dry flies.

SEAL'S FUR




Seal's fur is a medium textured dubbing with a unique translucence and sheen. This is the dubbing (IMHO) to use on traditional style wet flies and on dry flies such as the Shipman's Buzzer.

FLY-RITE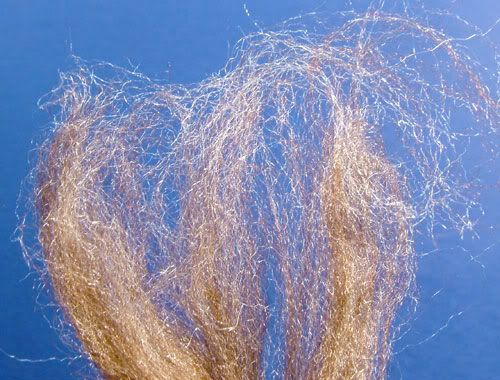 Fly-rite is one of a plethora of fine textured synthetic dubbings available. It doesn't absorb water and is also lighter than water, making it ideal for medium to small to tiny dry flies.

SPIRIT RIVER FINE AND DRY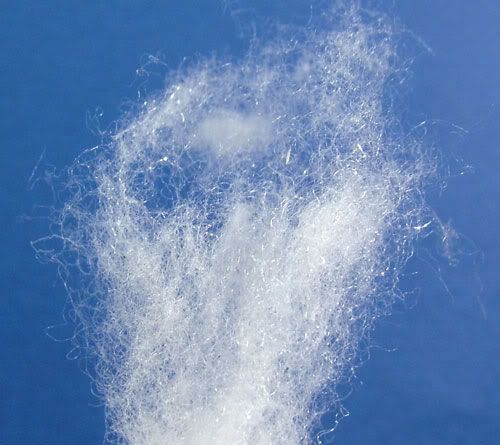 Another fine textured synthetic similar to Fly-rite above. There are so many of these types of dubbing available that it really is a case of "take your pick"

WCB FLYTING EASY DUB




Another synthetic similar to the two above, but this one is a slightly coarser texture. This is good for medium to larger dry flies. It is also great for the dubbing noodle technique shown below.

ORVIS SPECTRABLEND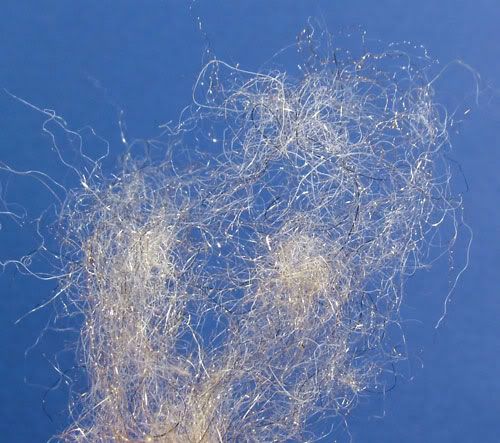 Orvis Spectrablend is one of my favourite "all round" dubbings. On its own it makes great bodies on nymphs or dry flies, it is also great for blending with natural furs, such as hare's mask, to add a little sparkle. According to Orvis it incorporates translucent and reflective trilobal Antron fibers to add sparkle to any fly.

SLF MASTER CLASS FINESSE BLEND




This is another favourite of mine. SLF stands for Synthetic living fibre. I like to use it for bodies and thoraxes on small buzzers and as a substitute for seal's fur on small wet flies. It is also good on medium to small dry flies.

HARELINE DUBBIN, INC ICE DUB




Ice dub is a medium textured sparkly dubbing, great for blending with natural dubbings such as hare's mask to add a little bit of sparkle, or on its own it can be used to add a "hot spot" to any fly.

VENIARDS GLISTER DUBBING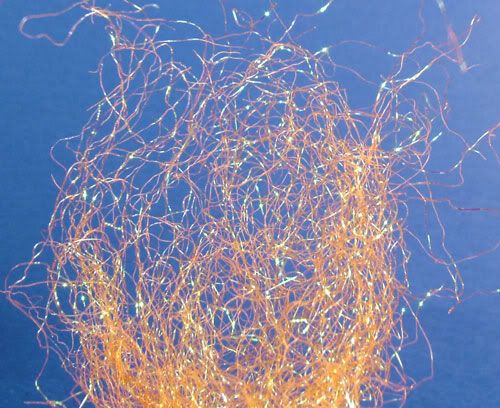 Glister is a medium to coarse textured sparkly dubbing. Like ice dubbing this can be blended with natural dubbings to give an extra sparkle to them, or used on its own to add "hot spots"

As I said at the beginning of this post these are just a few of my favourite dubbing. There are literally hundreds more to choose from, available in a huge variety of colours and textures.
In time you will find your own favourites and their uses, but until then, hopefully the above will help you to make your choices a little less haphazardly!