Fly Tying Articles
The complete guide to dubbing!
Details

Created: Monday, 11 January 2010 19:31
Last Updated: Monday, 11 January 2010 19:31
Written by Dennis Shaw
Hits: 8518
Page 1 of 13
All about dubbing!
Foreword
We at elmerfishing.com is VERY proud to be able to publish what we regard as one of the most comprehensive articles ever written on the subject of dubbing. The author Dennis Shaw is together with Paul Ainsworth the driving forces behind one of the best fly tying forums on the internet UKflydressing.com.

This article was originaly written for ukflydressing but we are very glad that we are able to publish it here on elmerfishing.com aswell. All the things you ever wanted to ask about dubbing but didn't dare to; here are all the answers and them some more!

Enjoy your reading, we sure did!!!
Introduction
All instructions assume right-handed tyers!

It's been a while in the making, but at last here is the all new "dubbing techniques" I promised a while back.
My initial thoughts when re-doing this was to simply add better quality pictures, but as you'll see as you read on, what started as a simple "fix" turned into a complete re-do. All new photographs and text and it sort of grew a little on the old one with new sections added and more details included. There are no videos this time. They were hugely time-consuming to prepare and upload and the results were, for me, less than satisfactory.
Hopefully with the help of what follows and a little practice you'll be able to utilise a variety of techniques to suit your own needs, and best of all, you'll soon realise that the various dubbing techniques are actually very easy techniques to master.
What follows are a list of the most common techniques (and a few ideas for when you feel more confident) and how I use them. There are other techniques and other tyers will have their "own way" of doing things, with practice and research and by listening to others, you will soon develop your "own way." I don't profess to be an expert, so take what you will from this article and use it and adapt it to your own needs.

Let's start with a few tips to help you…

Wash your hands before you start tying. Dirty hands will discolour dubbing.

If you have very dry or chapped hands you may find dubbing difficult, the "cure" is very simple, regular applications of hand cream. Believe me when I say this will make a huge difference, not only to the dubbing process, but also to many other areas of your tying. I suffered from dry, chapped hands for many years until I started using hand creams to replace lost moisture in my hands. I now use hand cream two or three times daily and the difference it has made is astounding!

When dubbing less is better! You will be surprised at just how far a tiny spec of dubbing will go, and in most cases how much better, more translucent and life-like your flies will look.

In the following posts I have concentrated on the techniques, one aspect of dubbing which I haven't touched on is the effects achieved by using different threads and under-bodies. When you start using the techniques try using threads to compliment or contrast with the colour of the dubbing to see how much they can affect the final outcome. Also try different under-bodies. For instance, try dubbing a body over a dark thread under-body, then do it again with a tinsel under-body. You will be surprised at how much a simple thing, like the colour of the thread, can affect the final outcome.

Most of the terminology used in the following threads are self explanatory, but just to clarify and avoid confusion here are a few regularly used ones..

Dubbing medium – This simply means whatever material is used for dubbing.
Staple length – Means the average length of the individual strands of dubbing.
Dubbing noodle** - Simply an amount of dubbing gently rolled or pulled into a small elongated wad of dubbing.
Dubbing rope** – What you have when you complete a split thread loop or dubbing loop. Dubbing ropes are also available pre-made in packets.
Work in the fingers (or hands) – Means to work the fibres in your fingers or in the palm of your hand by rolling and/or pushing the materials together and then tearing/pulling them apart repeatedly until you have achieved the desired effect.
Under-fur – The soft downy fur next to the skin. The under-fur on animals is usually a drab pale colour.
Guard-hair – The longer spikey hair. The guard hares are usually coloured, (especially towards the tips) these hairs are what give the animal its colour.


**Whilst doing some research for this article I discovered that there is some confusion as to what a "Dubbing Noodle" is, some people refer to a dubbing noodle to be what I call a dubbing rope. At the risk of opening up a debate on the subject, I believe my use of the terminology to be correct.

*edit*
When I started this article Seal's Fur was a readily available dubbing, though not necessarily a "politically correct" one to use. It now looks though that a ban on the sale and/or use of seal products, including Seal's Fur, is looking inevitable. I have kept the references to it and its uses in because it is still available for the moment, and hopefully you and I will still be able to use any stock we have!


OK, let's get started…
Tools
The basic tools I use are shown below.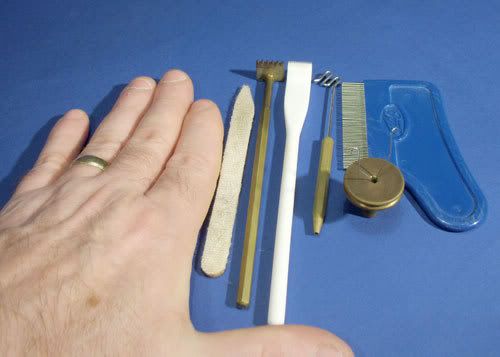 From left to right they are…
1 – The most important tool of all, your hands!
2 – Velcro, used to "rough" up bodies. This one is simply the "hooked" side of a piece of Velcro glued onto a lollipop stick.
3 & 4 – Dubbing rakes. The brass one is from Ken Newton. The white one is the "Ceramiscrape" from Lawrence Waldren, I think the best dubbing rake available. You can also make one from an old hacksaw blade.
5 – Dubbing twister. Mainly used for twisting dubbing loops with very course materials.
6 – Dubbing Whorl. Used for spinning dubbing loops.
7 – Nit comb. Used in the preparation of various long fibered yarns and wools.

This second picture is a coffee grinder, used during preparation or blending.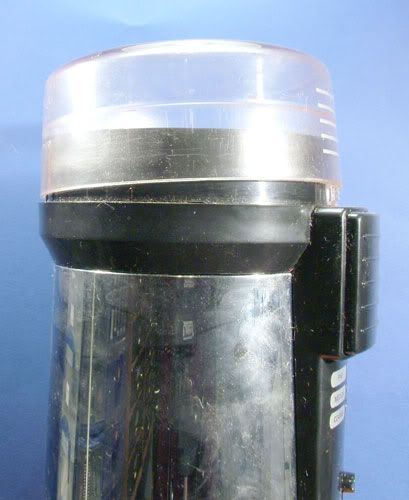 These are the main tools I use when using or preparing dubbing. Apart from the hands none are essential, but they do make life easier.