Articles
Fishing a classic English chalk stream
Details

Created: Thursday, 26 November 2009 22:25
Last Updated: Thursday, 26 November 2009 22:25
Written by Ulf Hagström
Hits: 3829
So in November 2009 I was in Stoke in England tying at the Brittish Fly fair international, a great thing in itself and I had the time of my life there. What really made it an even greater experience was to fish a English Chalkstream for the first time in my life. The Itchen is situated south of London and it was a 1-2 hour drive to get there from Chris Reeves where I was staying while there.

So it was me and Chris and Teddy Pattlen from the US. I met Teddy for the first time three years ago when he tied at the big show here in Sweden, and he is a fantastic guy to spend some time with.

"The Gaters Mill cottage" - where we payed for the days fishing

The first thing that struck me when we got there was how slow flowing the stream seamed to be everywhere, not a single little fall or boulder sticking up anywere. And also how small it was! I was so used to the streams of Sweden up north and I hadn't really put my mind to how different these Chalkstreams are despite seeing them on videos and photos many times prior to me going there.


You could tell that Teddy were excited too to start fishing and we were three very merry men getting ready to go try our flies to the Graylings. Chris gave us some good advice aswell as handing out a couple of small pink grayling nymfs that he said would work great for us. Me being a dry fly purist took the fly but chosed to still start with a small foam mayfly that I though might fit for the PMD's that were rumoured to be hatching.
Getting ready!

Once I got down to the stream I got my next surprise, it looked so shallow everywhere! Then I realized that well... it was! But there is also the fact that it has such very, very clear waters so even at places on the stream (that we got to further upstream) that are deep you will have no problem seeing the bottom.

So I started fishing blindly with the dry fly moving slowly upstreams towards Chris. He just took a couple of casts and then landed a small grayling directly on the nymf. I was just enjoying every breath of air around this stream and so far hadn't even considered that well... I was supposed to catch fish also!

I came up to Chris and now the next cool thing occured to me. He pointed to a bright spot of gravel on the bottom to the far bank of the stream. "You see that spot of gravel" he asked me. And I relied that well yes I do. "Do you see that dark shadow at the top end of the gravel". I tried to see what he meant and then I saw a slender looking shadow where he pointed, and then realized that it had a tail fin! He just grinned and said "Nice three pound brown that is" !

Once I know what to look for there were fish to spot everywhere! BIG fish!!! My eye was not trained in seeing anything more than the fact that there were fish, I couldn't tell if it was trout of grayling and since we weren't allowed to fish for the trout I tried to learn the difference before casting to any fish I saw.

At one time I did cast my SRM emerger to what looked like a really nice Grayling, and on the third cast he suddenly rose from the bottom and just below my fly he turned and went back down and then I saw it was a trout, a really, really nice trout of about two kilos or something!
The stream bank was very neatly treated and even though we were just by the river bank very close to the fish on the bottom they weren't spooked by us standing there. At one point we come around the corner and Chris points to a large shadow saying "see that, that's a salmon right there". Just when I thought I couldn't get more surprised!


Chris landed a few more Graylings and the odd trout when blind fishing who got back quickly again. Somewhere around mid day there were a hatch of small dark mayfly, probably spurwing, and it got the fish to start rising!
Chris soon found that the one fly that the fish actually did rise to was a small size 20 dark CDC fly, and he gave me one who I placed high up in a tree on the first cast! Embarrassed as I was I still asked him for another one since I kept seeing him catch fish on it! This was the same fly that Johan Klinkberg had found worked so well fishing here the previous year.

So I went ahead upstream like 50 meters to a spot that I had seen a good sized fish rise a couple of time. I got there and starting casting to him downstream and he stopped rising as soon as I got there. There were other fish rising as well and I cast to them all before realizing there was a bigger fish rising twice behind me upstream, and when I looked close I saw a nice long shadow at the bottom just beside a spot of gravel! Now was it a grayling or a brown... I decided on a grayling and started casting the black CDC fly to him. After about ten casts without him moving to the fly I lost it in a back cast again! Now I couldn't go back to Chris asking for another one and since the fish hadn't showed any interest in the CDC I put on a size 18 SRM emerger instead.

First cast with it, I see the fish back off a little and then rise and takes the fly with confidence! Woho! Shit, it's a trout! It makes a good run, then turns to the river bank and stays there! I feel him at the end of the leader but still it's stuck, so I reel in and get down to the river bank. The leader has tangled up in some branches so I carefully take the fish in one hand and try to remove the leader with the other, all of a sudden he breaks loose and "spits" out the fly and goes away!

I would love to have had a photo of him, but it didn't really matter, I was so happy having landed a Itchen fish and the rest of the time I found myself just walking about with a smile, casting to sighted fish now and then and watching the other two fish.

Teddy cathes both a couple of Graylings and a nice brown doing blind nymfing and Chris keeps catching graylings on his CDC.

The hatch of the spurwing dies out and there are not many rising fish left as we reach the end of the stretch late in the afternoon. Chris tells me and Teddy to fish out the big pool below the "waterfall" with nymfs to see if we can lure some bigger fish before we end for the day.


I fish like 50 meter down from the fall when all of a sudden I see teddy hook something and then I hear Chris yelling "It's a salmon!". I laughed because I thought he was messing with Teddy because we knew Teddy had never caught a Salmon! But then I see him running with the BIG net and I realize he isn't joking at all!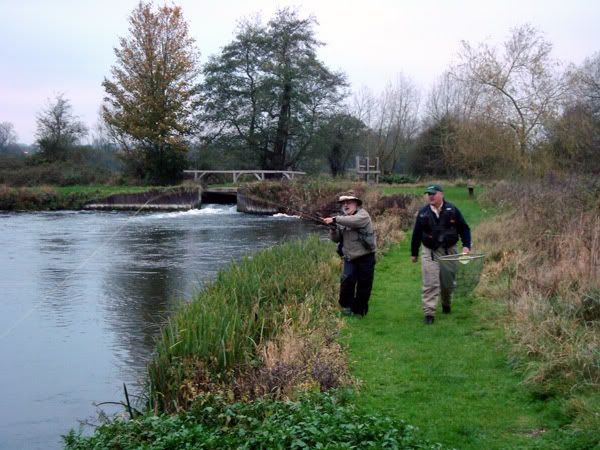 The fight is dramatic to say the least! The fish shows itself early confirming that it probably is a Salmon or maybe a sea trout before going down deep again.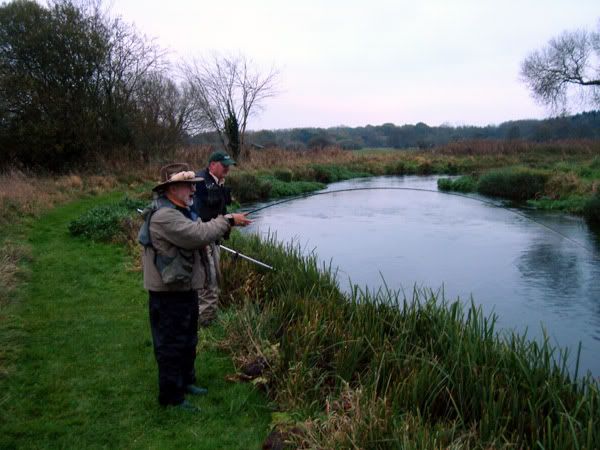 Teddy is fighting the fish with a big grin and a the cigar in his mouth!
All of a sudden the fish runs for the bank and then it's like it's impossible for Teddy to move it. He feels it at the other end but can't move it!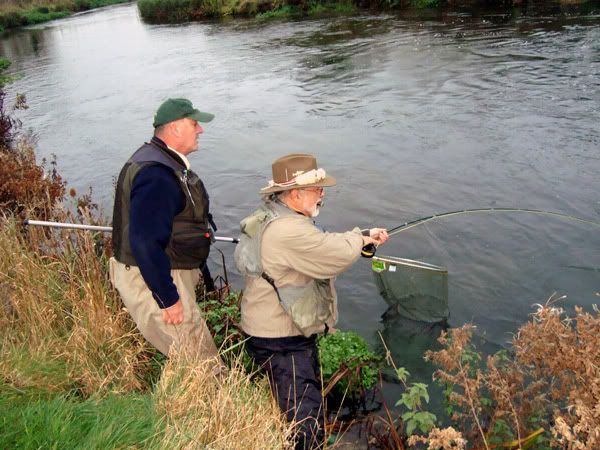 So operation "save the salmon" starts where Teddy tried to get as close to the river bank as possible, with me or Chris holding him by his back or neck making sure he doesn't fall in as he tried to play the line around whatever it's tangled around down there.

It's a three man job trying to life over the line over thorn bushes, grabbing Teddy, moving along the bank and trying not to loose our faith that the fish can be salvaged still!
Finally Teddy manage to get around the bushes and up on the bridge where he feels the fish finally giving in and start running free again! Success! So he moves to the far bank and eventually the fish is netted by Chris and landed!!!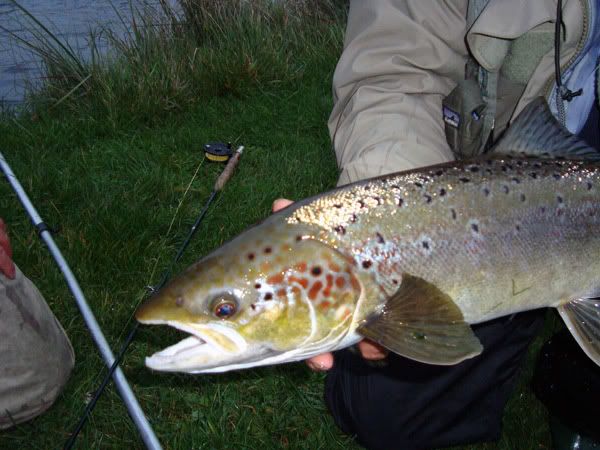 To our amazement we find that the 7-8 pound salmon has taken the small pink grayling nymf and not the streamer on the dropper that we all though it had!!! So a size 14 pink larva is the Salmon fly of the day!
I am so happy to have been a part of it. And when I look at Teddy, a man who has fished for all his life, for half a decade, who has caught fish all over the world and fished with some of the best. The absolute look of total and utterly happiness over this one fish... that expression on his face alone will describe to anyone what fishing is all about!
I had one of the most pleasant fishing days of my life, and I will be back to the Lower Itchen as soon as I can, fantastic!!!